We recently completed what was definitely one of the most challenging projects ever executed by us at Opus Architects and Vitana Projects. We're absolutely thrilled and want to share this experience with our partners, customers and well-wishers.
Itwas on May 18 that Teleflex approached us with what seemed like a fairly straightforward task. A 4500 sft office space consisting of workstations, reception, cabins for senior officials, business centres, utility/breakout areas – the works. There was one small hitch however. They wanted the project delivered from scratch in less than 45 days. Please note that, usually, 90 days would be considered a somewhat reasonable timeline for something like this. But we had only about half that time.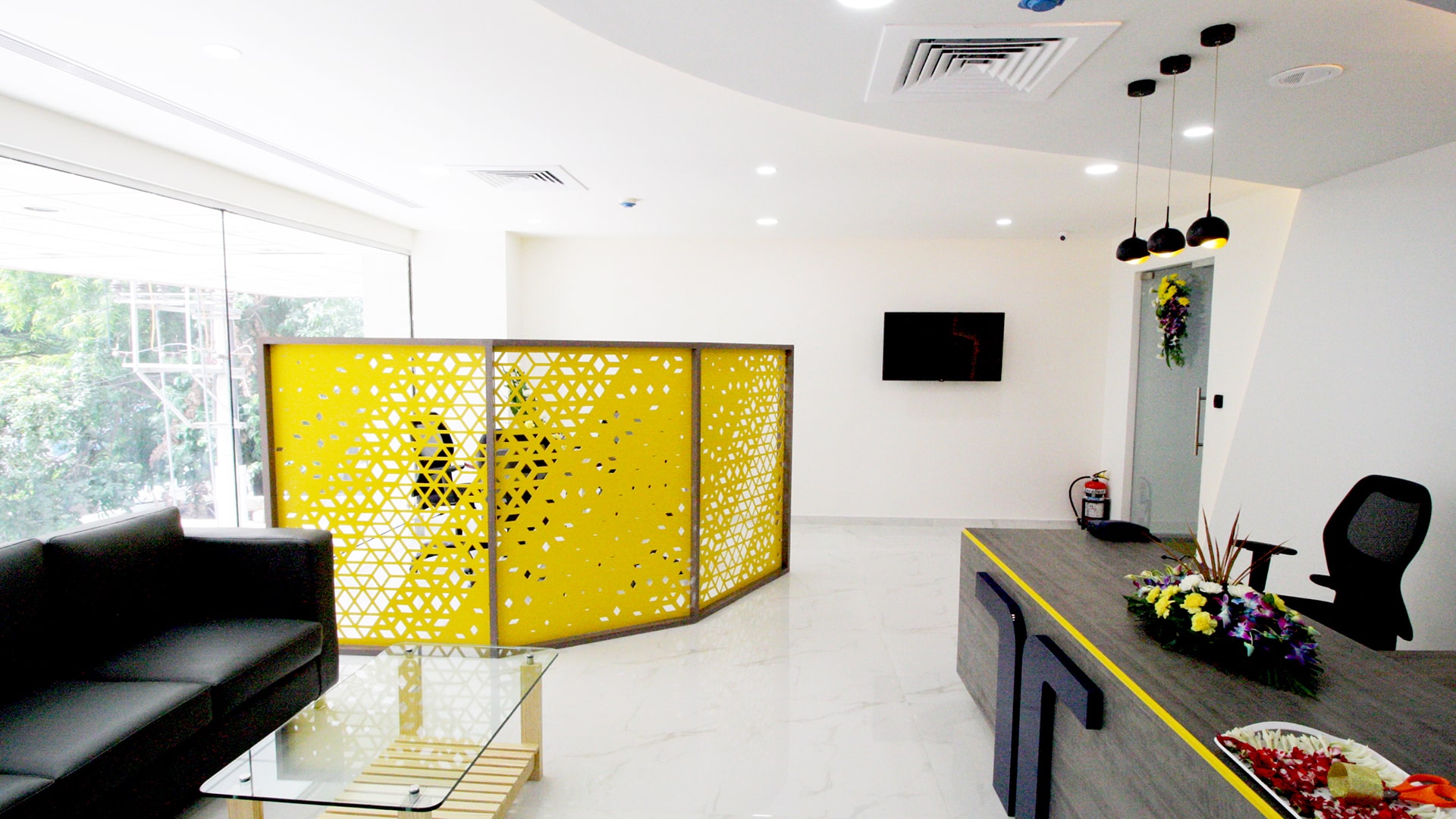 Whiletime was really the biggest challenge, there were a few other constraints as well. Firstly, the height of each floor was only 2.8 meters as opposed to the standard 3.6 – 4 meters. Taking a regular approach with a false ceiling to conceal services would've created a very boxed-in feeling. Therefore, we decided to take a slightly different approach. Instead of a full false ceiling, we created circular service 'pods' on the ceiling. The ceiling was painted blue with circular pods in white, thereby creating a 'blue sky with white clouds' kind of feel. The HVAC system was placed at the side, instead of having ducts running through the ceiling. This helped us maximize the available space and create a relatively open feel while ensuring that functionality was not affected.
The second issue was with the required utility areas. The specifications included a business center, meeting room, gym, pantry etc. Within the available space, designing separate spaces for all these would have meant that each of these spaces would be really tiny (and claustrophobic) in order to be accommodated. Instead, we decided to combine all these areas into a larger, multipurpose breakout space. And what's more, instead of tucking it away into a secluded corner, we decided to put it right in the center of all the action and really celebrate the space.
When we look back, this really is our favourite part of this office space. Designed like a trendy loft, the look and feel of this place is vastly different from the staid corporate look of the rest of the office.
We put in bright tones, more wood and even an image of a tree on one of the walls. This space now serves as a gym, pantry, meeting room and lounge all rolled into it. We designed it with a huge sliding door, which flows seamlessly into the work area.
In terms of design, execution and especially timelines, this project was definitely one of the most difficult ones that we've ever taken on. Because not only did it involve getting our own pieces in place, but it also meant working with over 20 agencies – contractors, vendors and service providers. It was a logistical nightmare to ensure that each delivered on schedule; because a delay in one had a domino effect on the rest of the schedule. We had absolutely no luxury of time!
But in the end, the rewards were truly worth it…
Wecan look back with satisfaction and pride on a project done well. We thank our colleagues, vendors and partners for going the extra mile to make this happen. And most importantly, we are thankful to our client for having faith in our abilities and judgment and being supportive all through.
Time to uncork the champagne now!